Argyle Winery was founded in 1987 by Rollin Soles as a 'Grower First' with the purpose of making world class Sparkling Wine in the perfectly suited true cool climate of Oregon's Willamette Valley.
What began as an conviction to grow grapes for sparkling expanded to an ambition to build our legacy through the long lives of our wines that could challenge the very best Sparkling Wines, Riesling, Chardonnay & Pinot Noir from across the globe.
The backbone of Argyle's decades of consistent high quality has been squarely built by vineyards that we have farmed for decades in the Dundee Hills and Eola-Amity Hills AVAs. The exactingly precise vineyard rows are the lines in the Argyle fingerprint, unique to us as a truly one-of-a-kind proposition.
Knudsen Vineyard
Dundee Hills AVA | 123 Acres Planted | Founded in 1972 | Red Jory Soil | 500′ – 1000′ elevation
Argyle's foundation vineyard source since 1987 is the 123-acre Knudsen Vineyard, located in the heart of the Dundee Hills AVA. Pioneering owner Cal Knudsen planted almost half the acreage in the early 70's, giving the Dundee Hills considerable mass. A leader in quality innovation for the entire region, Cal was at the forefront of significant vineyard improvements in irrigation, higher vine densities, clonal selection, and conversion from own-rooted to root-stocked vines.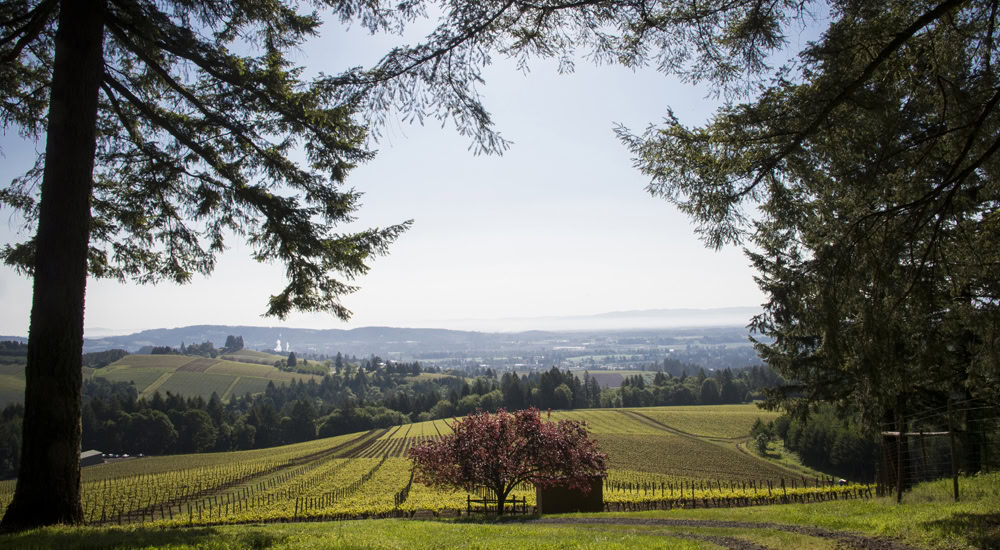 At the higher elevation of 700+ feet, the latest-ripening Pinot Noir makes one of our best – Spirithouse Pinot Noir. Argyle's finest sparkling fruit is also grown in the higher elevations of Knudsen Vineyard. We derive two vineyard-designated Sparkling Wines, Knudsen Vineyard Brut and Knudsen Vineyard Blanc de Blancs, from this great vineyard!
Lone Star Vineyard
Eola-Amity Hills AVA | 112 Acres Planted | Founded in 1996 | Jory, Nekia, Ritner and Woodburn Soils | 200′ – 400′ elevation
Do great views ensure great wines? At Lone Star Vineyard the vines are treated to a sweeping view of the Cascades, from Mt. Rainier in the north to the Three Sisters to the south. While the view is stunning, this low-elevation, warm site is a magnet for the two forces crucial for ripening grapes: light and heat. Lone Star is our warmest, sunniest vineyard site in a region not known for either…and in Oregon, the warmest sites are the best Pinot Noir sites. Lone Star catches the day's first rays of sun and the rocky soils retain heat at night. 
Since the 1999 vintage, Lone Star has served as the backbone for our biggest, boldest Pinot – the Nuthouse Pinot Noir. Lone Star Pinot is characterized by big, intense black fruit flavors supported by a firm tannic structure, suggesting wines that will age very well. In Spring 2005, we released our first vintage of Lone Star grown Riesling (which, incidentally, is the new world's first high-density Riesling on devigorated root stocks!)
Spirit Hill Vineyard
Eola-Amity Hills AVA | 138 Acres Planted | Founded in 2008 | Jory Soil | 650′ – 850′ elevation
Purchased in 2008, this is now Argyle's largest vineyard, with 130+ acres planted to Pinot Noir, Chardonnay and Pinot Meunier. Spirit Hill sits on top of the Eola-Amity Hills and is shaped like an open bowl, with aspects in every direction. This elevation, in combination with Van Duzer Corridor's gusty winds has made Spirit Hill Vineyard a very cool climate growing site.
Located south and up slope from Lone Star Vineyard, a great future of distinctive wines awaits Argyle from this impressive site. The Spirit Hill Vineyard will draw on Argyle's experience in higher elevation fine wine grape growing. In the northwest corner of the vineyard, tucked away in the trees, is an old pioneer cemetery, which has inspired the vineyard's ghostly name.